Posted on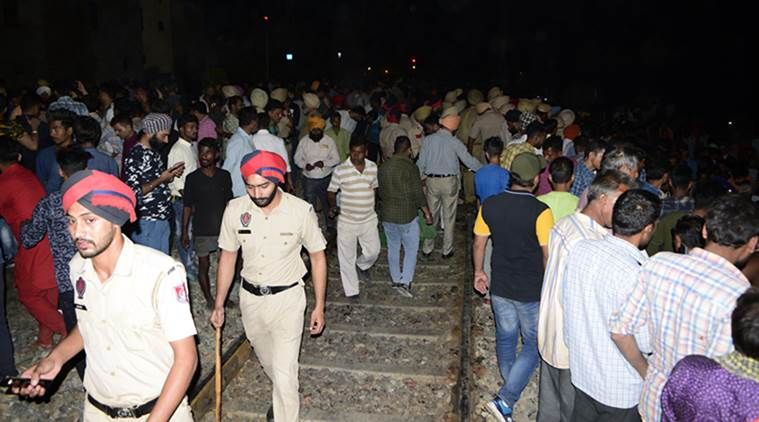 Amritsar ro raha tha, Jab pura Bharat so raha tha.
Yes, we all must be aware of the loss we had yesterday, a loss which is just inimitable and very difficult to bear.
Yesterday's evening might, of course, be called the win of good over evil, by doing the Ravan Dahan, but there was a place where the saying didn't go with. Yes, Amritsar. The devotees, the families, the innocent children all gathered in the Ravan Dahan ceremony after having their evening tea, most probably the last tea in their home, gathered to celebrate the win of good over evil with their friends, families and dear ones to capture the moment in themselves forever. But no one did ever know that such an evil would take a counterpart in their innocent lives.
No one knew this would be their last evening, no one knew a train would come like Ravan and deteriorate each and everyone's happiness. We people don't know who is to blame for this, whether the governance, the Railways, the organizers who organized the Ramleela just behind the Railway Track or the train driver who could have saved the delicate life of the innocents. Just know a single thing that Ravan really took a counterpart and took the delicate lives of the innocents. It is not the first time though. 3 years back the same situation occurred in Bihar where more than 100 people lost their lives due to the nuisance caused by some of the people. All it took them was to spread certain rumours and people ran over one another, thus taking many lives with them. Still, the government didn't become cautious and thus resulted in such a big loss yesterday.
Any of our actions now cannot bring the lives back of the innocents. The only thing we can do is just pray for them who have lost their delicate life and for their family. May God please give their family strength to bear such a loss which can't be explained at the moment. We all could just imagine the current situation their families are undergoing. The happy mood turned over into such a sad note.
The only thing I would I like to tell everyone is we can only get rid of such Ravanas by throwing out the Ravan inside us and our near surroundings and not just by burning of Ravana. We must remove the Ravana residing in ourselves. Let us bring back humanity to the world to pursue Ramrajya.
We pray wholeheartedly for them that the supreme power will give strength to their family to face the current situation.
Courtesy: Mr. Manish Kr. Kanjilal
Department of Computer Science Engineering (2016-20)