Posted on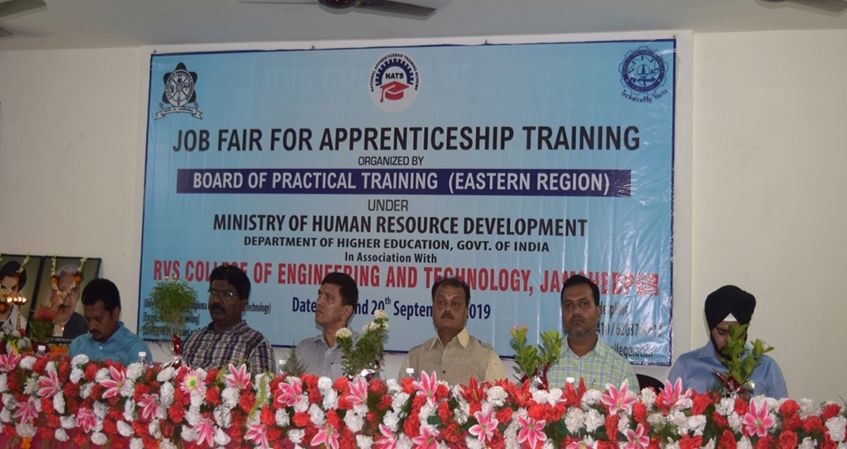 Greetings from RVS College of Engineering & Technology, Jamshedpur
Board of Practical Training (Eastern Region), Ministry of H.R.D, Govt of India Organizes Job Mela for Apprenticeship Training on 19th & 20th September 2019 at the R.V.S College of Engineering & Technology (RVSCET) Campus, Edalbera, Bhilai Pahari, NH-33, Jamshedpur, Jharkhand – 832012.
In this Job Mela, All Graduate and Diploma in Engineering and Technology  -2017, 2018 &  2019 passed out students (Except Mining Engineering ) from the state of Jharkhand Bihar , Orissa, West Bengal, Assam, Arunachal Pradesh, A & N etc can participate and  start career as Graduate/Technician Apprentices through the National Apprenticeship Training Scheme (NATS) under the Apprentices Act ,1961.
It is expected that more than 40 companies (including MNCs, PSU, Private establishments) will participate in this 2-day event.
So, you are requested to attend the event on said date on time after completion of registration.
Students can click the link below for registration:
REGISTRATION CLOSED
Eligibility: B.E/B.TECH or DIPLOMA in Engineering/Technology in any subject (Except Mining Engineering)
Passing Year: 2017, 2018 & 2019
For any technical difficulties, contact at
boptj[email protected] / [email protected] (6203750410 or 6203750413)
NATS is one of the flagship programs of Govt. of India & We are looking forward to your monumental contribution towards making the India Skill Capital of the World.
Thank you,
With Best Regards,
More Info: Visit: www.bopter.gov.in
NATS Registration Link: http://mhrdnats.gov.in